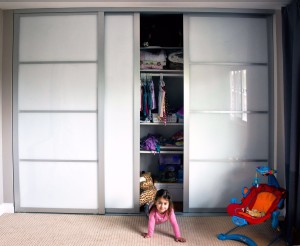 Picking the right door for your home, office, or patio will "hinge" on combining functionality with your own unique taste when it comes to style and design. Let's have a look at why the sliding mechanism is such a practical choice, while also checking out the wide space saving features the bi fold door provides.
What are Sliding Glass Doors?
Whether you go with frosted or translucent glass, mirrored or a raised panel, traffic won't be much of an issue for a closet with sliding glass doors. The most obvious downside is that only one side of your closet will be available at any given time. Sliding closet doors that are fully mirrored may be a little overwhelming for some rooms (see other options at our sliding doors los angles showroom), so consider such alternatives as sliding barn doors, panel, louvre and flush. By contrast Bi fold doors offer a wider opening and can accommodate more configuration options like integral blinds.
Sliding Doors: Pros and Cons
Pro: Structurally they have less demands and often can accommodate a moderate sized glass pane.
Con: Less convenient to open and shut regularly, also installing them may put a strain on your wallet.
Pro: With its narrow frame it removes any protrusion issues.
Con: The wide and deep roll track may be awkward at times (triple runners especially)
Pro: Not only are they curtain and blinds friendly, sliding glass doors in particular do the environment a solid, by disproving the stereotype that all furniture must be made from wood.
What are Bi Fold Doors?
By contrast bi fold doors offer a wider opening and can accommodate more configuration options like integral blinds. They offer the best in terms of flexibility with respect to their configurations. Bi fold doors may seem to take up more space, but they are folded back making them a perfect fit for corner areas. They have the flexible option to fold inside or outside and will be a suitable choice for most modern homes.
Bi Fold Doors: Pros and Cons
Pro: Great for smaller doors, or areas where space is more on the limited side.
Con: Somewhat intrusive when opening towards the inside.
Pro: You'll be able to fully access the closet and with setup and installation on the easier side, you'll be more excited to start exploring all the different styles and materials at your finger-tips.
Con: One of the drawbacks is that installing glass is a lot harder although not impossible.
Pro: The "level threshold" is a safety plus and removes any trip hazards, something the sliding door is not able to do with its door track.
A high quality bi fold door can run upwards of $600.
Which Way Do You Slide?
Both doors offer advantages and drawbacks when it comes to view. Folding doors can when fully opened offer the best possible view whether installed in a closet or back of the house. Sliding doors by default will offer a view that is somewhat interrupted, although if you need more privacy or noise reduction they are a better choice. The cost of either one of these doors will depend on the material you choose rather than the design. Aluminum, wood, and timber are very popular and will all play a role in the doors look, maintenance requirements, and longevity.
Reference: http://knrslidingdoors.com