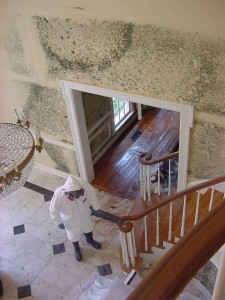 Do you suspect there is mold in your home? Mold and indoor contaminants can affect your health, causing life-threatening diseases. About 4.6 million cases of asthma in the U.S. are attributable to mold exposure. This silent killer is a major cause of mortality worldwide. Every year, millions of people develop chronic obstructive pulmonary diseases and acute respiratory infections after being exposed to mold. These microorganisms are potential health hazards and should be removed immediately.
How to Detect Mold in Your Home
Molds need three things to grow: a wet environment, mild temperature, and food (wood, leaves, ceiling tiles, or paper). Since most buildings meet these conditions, mold can occur anywhere. If there's a musty odor in your home, it's probably caused by mold. Use your eyes and nose to determine whether or not your house has mold. Although it's not necessary to identify the species of mold, consider taking samples. Certain types of mold may cause specific symptoms, such as itching eyes, running nose, or headaches.
Even though homes are more energy efficient than ever, mold growth still represents a major problem. If there are signs of it in your house, remove the mold as soon as possible. A mold inspection may be necessary too. This will allow you to determine the cause of mold growth and find any mold growing in your basement, living room, kitchen, or behind the walls. The earlier you detect the mold, the better.
When it comes to testing your home for mold, you can either seek professional help or use a mold test kit. The mold tests available on the market can help you find hidden pathogens and check indoor air quality. Some will also indicate the type of mold present in your home. Although it's recommended to have your house checked by a professional, this option is more expensive. A qualified mold inspector will take samples and analyze them in the lab.
Are Mold Test Kits Effective?
Mold test kits are affordable and easy to use. They can be classified into three categories:
Bulk testing kits
Surface testing kits
Air testing kits
These products will help you determine the amount and type of mold particles in a certain area at a given time. For best results, test several areas at different times of the day. However, professional mold inspections are more effective than mold test kits. The samples you collect can be misleading, while a visual inspection provides accurate results. Health experts claim that mold test kits cause fear in the people who use them, which leads to higher revenues for manufacturers. On the other hand, these products might be good for preliminary screening.
Once you identify the source and location of mold, it's necessary to clean the area and replace any insulation or wallboard that shows signs of contamination. You also need to control the moisture in order to prevent mold from growing back. Early detection can significantly reduce the time, cost, and effort associated with mold removal. If you decide to clean up the area yourself, wear a mask and protective equipment.
More about mold testing and removal at http://orange-restoration.com/services/san-diego-mold-removal/